Your Home Sold Guaranteed or We'll Pay You $1000 CASH!
Selling your home, achieving your goals all start with one thing... Knowledge of Your Market! When you are armed with proper information, all of the complicated pieces of the home selling puzzle will fall into place. An organized, planned approach to selling your home will eliminate the guesswork, insure that you avoid the costly pitfalls, and enjoy a successful, low stress transaction.


For most folks, their home is their biggest financial asset. But it is often much, much more. It is your HOME! It is where the family gathers for the holidays, backyard barbecues, where your child first rode down the driveway without training wheels, it's where you eat, sleep, It's where you LIVE! It's memories, good and bad. Yes, most people get mighty emotional about their homes. The thought of selling your home may bring on deep feelings of sadness, joy, fear, uncertainty and excitement - all at the same time! Realize that selling your home is a dollar and cents business transaction, and you need to put your emotional attachments to your home aside. Easier said than done right, just try to keep in mind that potential buyers are not looking to buy your home, they want a house that they can make into their home! You need to understand that the buyer's are not interested in nor affected by your own personal memories of your home. It's natural to feel like your home is worth more than others just because it's yours, but DON'T FALL INTO THIS TRAP. It will affect your judgement and cause you to make poor decisions....decisions that may end up costing you plenty!You will be able to research Average List Price, Average Sales Price, List Price To Sales Ratio, Average Days On The Market and much more, 24 hours a day, 7 days a week no agent hassle free using our create a custom market report tool!
Step 1. Market Overview and Consultation
Utilizing strategies beyond just the Comparative Market Analysis to ensure accurate pricing is established. This is achieved through reviewing interest rates, availability of financing, overall inventory, immediate market activity, DOM and initiating a wide range of valued information in comparable markets.

Step 2. Prepping Your Home For Success
LET THE SCRUBBING BEGIN! The first order of business is to make your home shine from top to bottom, inside and out. There is no such thing as too-clean. Pay special attention to the kitchen and bathrooms. People don't buy dirty, messy homes! Properly preparing your home for sale can make the difference between a quick sale at full price, and a home that sits unsold for months ....even after several price reductions. Please keep in mind that all your efforts now will pay off big on closing day. Failing to take the time to get your home to shine could cost you literally thousands of dollars. Rest assured, we will guide you through this process and recommend inexpensive tips to get maximum return on your investment. Additionally, we will provide you an in home private consultation and recommend up to 49 Time Tested Simple Tips For Selling Your Home For More Money, simply just give us a call we'll schedule a time at your convenience at no cost, no obligation and of course...hassle free.

Step 3. Massive Social Media Marketing Campaign Exposure
Exposing your property to the fullest, massive exposure seeks to represent the differences your home offers to the largest possible pool of qualified buyers in your market area. We tap into all of the major internet marketplaces, employ proprietary tactics in prospecting for potential buyers, utilize professional photography, utilizing our innovative Cartur Cam video and copy writing strategies that make buyers want to see your home. In addition to our online marketing campaign, we know the importance of social networking in our marketplace and we have a plan that leverages the greatest amount of agents to sell your home. Your home will be showcased in top social media outlets such as Facebook, Twitter, Google+, Blogger, Pintrest, Craigslist, YouTube, Instagram and the MLS are just a few of places we target to increase the exposure for your home. Additionally, we know that 75% of homes are sold with the help of co-op agents. For this reason, we have developed a strategy that targets buyers who are already looking for homes similar to yours.
4. Innovative 24/7 800 Call Capture Service & Marketing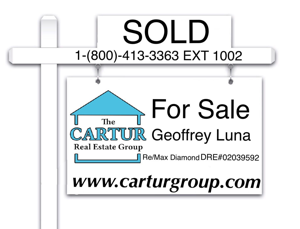 No home marketing strategy would be complete without the brand recognition of a REMAX Team. Buyers feel a since of security seeing it and is the largest reason we are affiliated with REMAX. Included in our marketing campaign is our innovative call capture 800 service. Our 800 Service number provides detailed information about your home 24 hours a day, 7 days a week. This 800 service call capture feature gives our sales team the opportunity to immediately follow up on hot inquiries and set up appointments to get you TOP DOLLAR.
Step 5. Negotiation & Contract

Many lawsuits are filed every year as a result of buyer / seller failure to comply with contractual timelines, failure to disclose known facts, title issues, not getting the proper guidance and or advice from the agents they hire to close time framed contingencies, failure to structure offers in favor of the sellers to close successfully, responding timely when buyer performance is below expectations. Let's face it, there are several hurdles in every transaction and it's experience that matters to minimize transactions from falling apart. If you interview an agent and they can't stop talking about themselves and how great they are, I'm #1, I'm the best, Zillow #1, me me me ......and they spend less time in educating you in the contractual part of the selling process, simply thank them and run for the hills.
Back to business, there are lots of forms and contracts used in the selling of real estate and every year more disclosures and forms get revised and added to the selling process. This includes purchase agreements, addendum's, cost breakdowns, title reports, disclosure forms, MANDATORY disclosures forms for property condition and lead-based paint, smoke detector compliance, counter offers, and more. Failure to complete these disclosures can result in stiff financial penalties!
Realistically, with your goals and purpose in mind, rest assured Geoffrey Luna and The Cartur Group will help guide you to make informed decisions when multiple offers are presented. You will have three basic options when you are presented with an offer:
ACCEPT THE OFFER

REJECT THE OFFER

MAKE A COUNTER OFFER
The price is always the focal point of the offer, but there are lots of other areas that you need to address and pay close attention to also. When reviewing an offer, make sure that every aspect of the transaction is spelled out specifically. Details that are not clear or are left out can lead to big problems down the road, cost you dearly. We won't let that happen!